Sell Hair
If you want to sell hair you have come to the right place because we buy hair!  Do you have long hair and are ready for a much shorter hair style? No problem, a hair cut is included when we buy your hair.
Are you wanting a new style that costs more than you want to spend? The answer is simple, just pay for your styling from the sale of your hair.
Selling Your Hair
Selling your hair to us is a very simple process. The only requirement is having a minimum of 8 inches. The value is based on the length and thickness of your hair. Hair that is well cared for and free of bleach and/or dye is more desirable. We will gladly evaluate your hair and give you a fair price. You will get a great new look while helping someone else at the same time!
I Buy Hair! - Requirements for Sale
Hair length 8" or more
No relaxed or chemically damaged hair
Consultation required prior to cut
Haircut and style included
Interested in Hand Tied Hair Extensions?
Contact us today to schedule an appointment!
Sell My Hair
What happens to the hair that is donated to companies who make hair extensions or wigs for cancer patients?
You or someone in your family may have had a time when you had long hair and decided it was time to go short. The person or salon may have asked you to donate your cut ponytail to an organization who donates hair extensions and wigs to those with conditions that affect hair growth. Some of the hair is donated however most of it is sold for profit by the organization.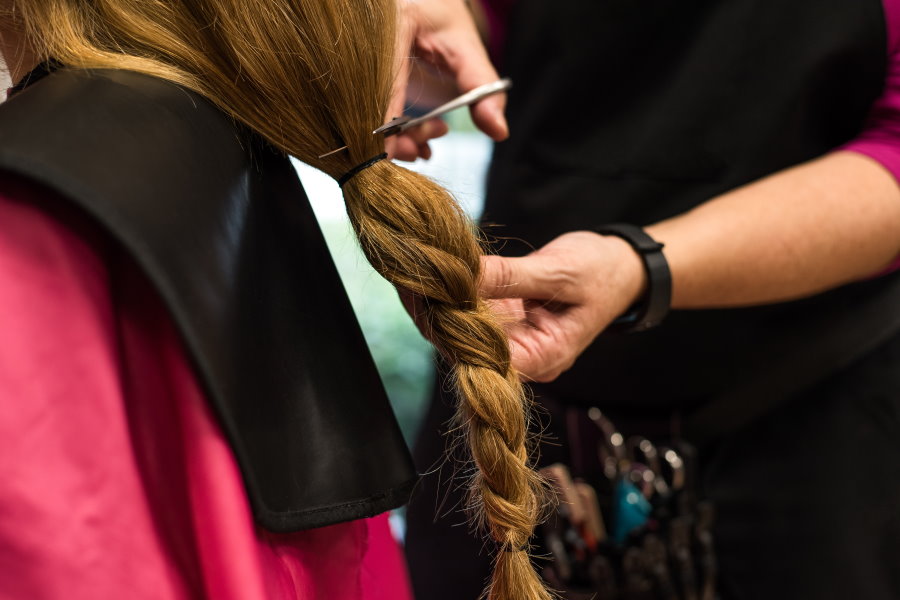 Ever Wonder Where the Hair in Your Extensions Came From?
Many women in Buddhist communities give their long hair to the Buddhist temples as a part their culture or religion. The hair is in turn sold by the temples who acquired the hair for free. The hair used to be sold to mattress company who used the hair as stuffing. These days the hair is sold to companies who manufacture wigs and hair extensions for example.
Your hair has value and you deserve to be paid for it!
Contact us today for an appointment!